Last week, Suzanne Biegel and Daniel Maskit held a fundraiser at Akasha Restaurant, the acclaimed organic eatery in LA, for the benefit of "La Tortuga Feliz" – the turtle sanctuary at Playa Viva.  A small group of friends of Suzanne, Daniel and Playa Viva gathered for a wonderful dinner and to talk turtles.  The group raised $1,400 in one night for the turtle sanctuary. This amount will be added to the funds already donated by The Norcross Wildlife Foundation, the World Turtle Trust, the Greater Good Network (through CharitiesUSA), The Ocean Foundation, Gente como Nosotros, WildCoast and the donations of individual donors. The amount is sufficient to fund the purchase of a 4×4 ATV vehicle for use by the volunteers in preserving more turtle eggs and baby turtles.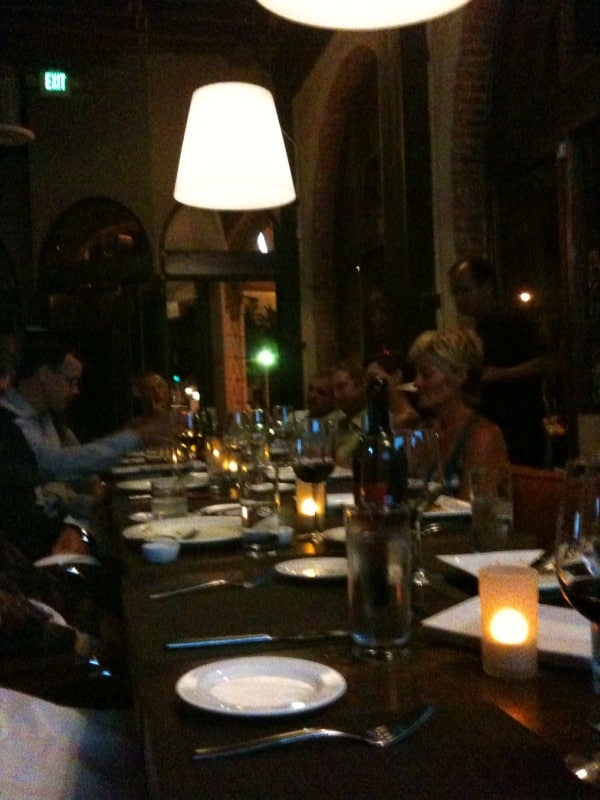 The turtle sanctuary, La Tortuga Feliz, located at Playa Viva, is staffed by 12-20 volunteers who donate their time to protect baby turtles from predators along an 8km stretch of beach near Juluchuca, Mexico.  The group releases close to 200,000 baby turtles per year including Golfina (Green or Olive Ridley), Laud (Leatherback Turtles) and Prieta turtles.  Playa Viva is supporting the volunteers by providing access to needed resources to allow them to continue their work as well as to develop eco-tourism volunteer programs to bring visitors to the area to work with the local volunteers.
While the only photo taken of the evening is somewhat dark and blurry, the evening was bright, cheerful and delicious.  Akasha executive chef, Akasha Richmond, personally created a menu for the event that included seasonal heirloom tomato salad, choice from three main dishes and two deserts including group favorite, chocolate with sea salt, combining sweet and savory in melt-in your-mouth, bite-size morsels.  Dinner guests inquired about Playa Viva and how it interacts with the turtle sanctuary and local volunteers in promoting eco-tourism. Guests received a parting gift of artisanal salt from Playa Viva as well as coconut macaroons made in the town of Juluchuca.
If you are interested in hosting a fundraising dinner for the turtle sanctuary, please let us know, we are happy to support with materials and, if schedules allow, travel to join you for the event.
The volunteers at the turtle sanctuary have been asking for assistance with a 4×4 ATV as well as funds for gas, food stipends to attract more volunteers and resources to attend training sessions.  The funds raised this evening will be added to those funds already collected and provide the needed cash to purchase the vehicle.
We at Playa Viva cannot thank Suzanne and Daniel enough for their efforts in organizing this event.  If in LA and near Culver City, we highly recommend a visit to Akasha Restaurant. The food is delicious, service attentive but not intrusive and the chocolate dessert is just plain divine. Oh, and did we say that it's all organic?!  Thank you to all in attendance for their support.